Recovering our Lost Theology: The Sovereign Grace of God
Are you bothered with how shallow and superficial the way we think about theology has become? It seems it's become more important to share some condensed, peanut-sized version of the gospel at the simplest, most juvenile, least thought-provoking level with our culture rather than let people wrestle with the theological difficulties and search out how they might be rectified logically. Author Rick Brownell has had enough. In his book,
Recovering our Lost Theology
, Brownell poses the tough questions and challenges readers to reevaluate their theological thinking.
How does God loving the world yet destroying a group of its inhabitants work itself out in your theological framework? Is God so detailed and powerful in his sovereign plans that he controls not only the creeping of a single aphid over a rosebud, but the flight patterns and boundaries of a billion locusts? If God is so sovereign in the natural world, would he leave the salvation of a lost sinner to his own apostate will and determination in the spiritual world? These are just a few of the questions Brownell addresses so that readers will focus again on God's grace and mercy in the salvation of men. He hopes readers will recapture a biblical perspective on evangelism and abandon the tired advice of many theologians who suggest Christians "don't get bogged down with profound theological concepts" when sharing the gospel.
Recovering our Lost Theology
is a daring and moving challenge to readers to reevaluate and reaffirm their commitment to God's sovereignty in salvation, evangelism, and theology to the glory of God alone.
Rick Brownell lives in Aurora, Oregon, with his wife of twenty-seven years, Sheila. He has a bachelor's degree in Ornamental Horticulture from Cal Poly San Luis Obispo and a Master's degree in Exegetical Theology from Western Conservative Baptist Seminary. He can frequently be found engaging believers and unbelievers alike in discussions of theology and the sovereignty of God in the Christian faith.
[I would be happy to send you a free copy if you are interested in writing a review of the book on your blog or web page. Contact me at
twiliter55@gmail.com
].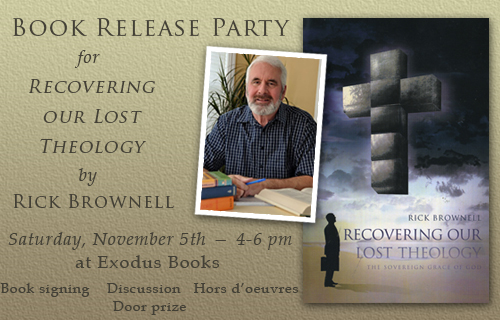 Newly published author Rick Brownell would like to invite you to his first book release party at Exodus Books on Saturday, November 5th. Rick will be at the store from 4-6pm, answering questions about his book, encouraging and engaging us in discussions on God's sovereignty in salvation, evangelism and theology, and signing copies of his new book
Exodus Book's Review of Recovering Our Lost Theology: The Sovereign Grace of God
In our time it has become accepted, and in many ways even expected, practice to rob the Gospel of its depth and power before presenting it either to non-Christians or believing church congregations. The professed aim of this evangelistic method is to present the Gospel in terms anyone can understand, but what happens instead is that God's Word is watered down, misrepresented or misconstrued.
Rick Brownell suggests we return to a theologically weighty presentation of the Gospel that not only encourages, but
forces
those who hear it to contemplate the depth and breadth and wonder of the God who saves.
Recovering Our Lost Theology
presents the central doctrines of the faith in non-technical terms without abandoning the meaning of those terms, or the often troublesome nature of God's behaviour.
It would be tempting for many authors to simply rant about the widespread cheapening of the Gospel. Brownell never betrays anger or rancor, however, instead urging his brothers and sisters to marvel at the holy triune God, to contemplate Him, and to share the truth of salvation and redemption to everyone they meet.
You won't find a lot of jargon here. Words like "election," "Calvinism," "sanctification," and others do come up, but Brownell isn't interested in aligning himself with a particular denomination—he's concerned with understanding the truth in Scripture. Without abandoning the wisdom of past saints, he urges us to "think theologically" in a world increasingly reluctant to do so.
This isn't an attack on anti-intellectualism, a defense of Covenant vs. Dispensational theology, or an orthodox doctrinal checklist. Brownell's love is Christ and the Good News of salvation, and he invites readers to engage the difficult concepts of Scripture, wrestle with them, and move (however infinitesimally) toward richer, more profound knowledge of the Savior than rejection of theology will ever lead to.